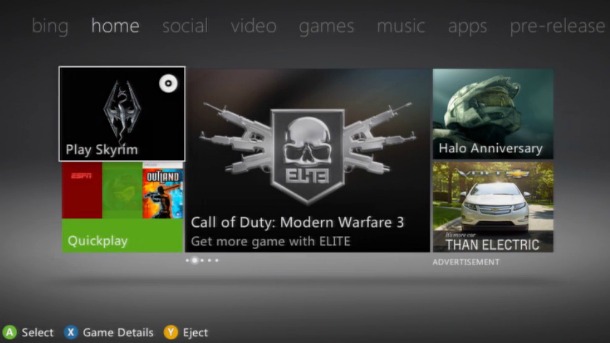 I downloaded the newest XBOX Live Dashboard Update.  I like it, but now My XBOX 360 is an AD Machine and I don't like that!
Look at the fact that in the above photo of the HOME tab, only the two small boxes on the left are for using features on the 360. The other three boxes with ADs are taking up 75% of that whole area. Some tabs have more than 75% Advertising. Also what did this update give us for free? It seems that most of the upgrades are for premium content that you need to pay for. Also in the Home area, the small bottom box on the left allows you to quickly run the last Games or Apps you used…….  All except for Windows Media Center.  Media Center is excluded from being added to that short cut list. It is my belief that Microsoft would like to distance itself and eventually remove Media Center from XBOX consoles. Media Center allows you to do lots of things for free and without an XBOX Live Gold Account that Microsoft wants you to pay for in this update and future updates.
The small ad in the lower right corner above is the only box marked as an advertisement. Yet, the other two boxes are also ads to get you to BUY things. The largest box continuously scrolls through many ads. The definition of an ad is " A notice, such as a poster or a paid announcement in the print, broadcast, or electronic media, designed to attract public attention or patronage." Just because Microsoft does not label it an ad does not meant it is not one.
In the large box that scrolls ads, You cannot play that game for free, play that music for free, watch that movie for free, etc.. So Microsoft is advertising that it is available for purchase.  The large window on the Home page should show a list of the last Apps and Games played for easy quick easy access with no navigation. My problem with the ads is not that they are there. It is how much room they use ( 75% ) compared to the functions of the XBOX360 itself. I bought the 360 to play games. It's great that it does much more, but is a gaming machine first. That is why I bought it. Also, for Microsoft to increase Live by $10 and then add all of these ads seems kind of crappy on their part.
In the end I have to navigate to use my XBOX 360 for what I bought it for and it's main function. Yet I can select an ad with no navigation.
I am adding the following: I thought video being played by the XBOX Video Player looked kind of washed out after the Update. I just thought it was My TV or the content. Now I have just read online that the XBOX Video Player has not been working properly since the Beta Test began on the Update. It was brought to Microsoft's attention by the Beta Testers and Microsoft still let the Update roll out with the broken Video Player. Way to go Microsoft. Give us tons of ads and ruin the Video Player.